In Residence at Benjamin Franklin House
Author in Residence, George Goodwin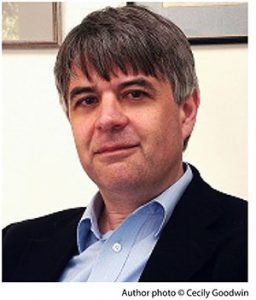 George Goodwin MA (Cantab.) FRHistS FRSA is the Honorary Author in Residence at Benjamin Franklin House in London.  He is the acclaimed author of Benjamin Franklin in London, the British Life of America's Founding Father, which, on publication, was BBC Radio 4's 'Book of the Week' and was well and widely reviewed, including:
 'George Goodwin captures as well as any recent biographer just why Franklin's contemporaries found him so captivating'  —  Times Literary Supplement 
'Elegantly written, it serves as an enjoyable introduction to Franklin's time in the imperial metropolis. Replete with anecdote' —  New York Review of Books
'The British Franklin, the subject of this fascinating and detailed biography by George Goodwin, may well be the real Franklin'  —  Literary Review
'A sensitive, moving and finely textured account of Franklin's years in London' –  Guardian.  
'A fascinating perspective'— The Wall Street Journal
George is a Fellow of the Royal Historical Society and the Royal Society of Arts.  He is the 2018/9 Dr William M. and Betty H. Busey Family Fellow at the Fred W. Smith National Library for the Study of George Washington at Mount Vernon; and a continuing Makin Fellow of the Eccles Centre for American Studies at the British Library. George was previously a  2014 & 2017 International Fellow at the Robert H. Smith International Center for Jefferson Studies at Monticello.
George's other published books are Fatal Colours, Towton 1461, England's Most Brutal Battle; Fatal Rivalry, Flodden 1513; and Christmas Traditions.
George is a history graduate of Pembroke College, Cambridge, where he was awarded a Foundation Exhibition.  His home is in Kew, a stone's throw from the Royal Botanic Gardens.
Watch his virtual talk on his book Franklin in London here
Lady Joan Reid Children's Author in Residence, Professor Sarah B. Pomeroy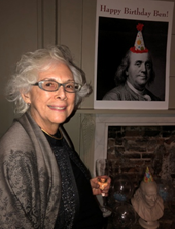 Professor Sarah B. Pomeroy is the Lady Joan Reid Children's Author in Residence at Benjamin Franklin House. She is a distinguished Professor of Classics & History, Emerita Hunter College & the Graduate School, C. U. N. Y.
A graduate of Barnard College and Columbia University, she is the accomplished author of numerous books, articles, and reviews on the topic of Women in Antiquity, including the classic Goddesses, Whores, Wives, and Slaves: Women in Classical Antiquity. She has won many awards, including the Ford Foundation Fellowship, Guggenheim Fellowship, and a Mellon Foundation Fellowship. Most recently, she is the 2018 winner of the Moonbeam Children's Books Gold Award in the Non-Fiction Chapter Book Category. Her pioneering work has been instrumental in our understanding of women in the ancient world.
In 2014, she became member of the American Philosophical Society – started by Benjamin Franklin himself. Her authorship and extensive experience in historical research makes her the ideal person to bring the history of the House to life in a book for young adults featuring Benjamin Franklin House. 
Learn more about her new book Benjamin Franklin, Swimmer (to be published by the American Philosophical Society Press in 2021) here. 
Listen to our Founding Director, Dr Marcia Balisciano's conversation with Professor Pomeroy here.
Playwright in Residence, Michael London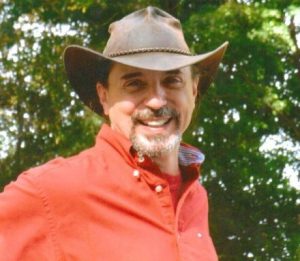 Michael London is Playwright-in-Residence for the Benjamin Franklin House. He is committed to the preservation of the House and its educational goals. He has written "A Final Plea" for the Benjamin Franklin House and is presently completing two new plays, "He's Coming Home" and "We are the Franklin's" for presentation by the Benjamin Franklin House.
Mike is a playwright and the Director of the Ohio Playwrights Circle. He studied for the theatre and playwrighting in a variety of settings including the Royal Academy of Dramatic Arts in the UK, and Ohio State University in the USA. He has a Masters in Screenwriting for Television and Film from Royal Holloway, University of London.
His plays have been performed in the US, the UK, and Canada. His bio-play on Charles Chaplin, "SMILE", was a feature presentation at the International Just For Laughs Festival in Montreal, Canada.
In 2007, he received a variety of publishing awards for his novel, Dearest. In 2010, he received a Silver Medal Award from the Publishers Association of The West, for the design and editing of a three-dimensional edition of the Jane Austen novel, Lady Susan.
His recent play "TREASON" is the story of Benjamin Franklin and his son William and their estrangement over the War for American Independence. He is currently writing a new play for the Kettering Children's Theatre.
He has taught playwrighting in a variety of theatrical, university and community settings. He is a member of the Dramatist Guild, the International Society of Dramatists, and the Authors League of America.
Illustrator in Residence, Kremena Dimitrova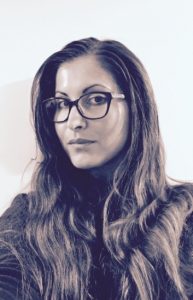 Kremena Dimitrova is a London-based Illustrator, Lecturer, and Researcher with a clear academic and visual research trajectory, exhibition track record, and broad knowledge of traditional and digital media. Her interest, experience, and expertise lie in narrative and situated illustration methods, reportage drawing, public history and visual historiography, site-specific work, visual interventions, use of creative processes and application of artistic insights in diverse arts and non-arts contexts. Kremena's commissions and research focus on visual history-telling in the museum and heritage sectors. This led her to embark on an interdisciplinary practice-based PhD in Visual History at the University of Portsmouth (2019-) which explores the graphic novel as an innovative form of historiography and focuses on Benjamin Franklin and Benjamin Franklin House as the case study. 
As part of her residency at Benjamin Franklin House, Kremena has produced National Lottery Heritage Funded children's sticker book about Benjamin Franklin's life and work in London Benjamin Franklin: At Home in London (published in 2019) and has developed illuminations used as educational projections to enrich young audiences' experiences during historical re-enactments at the museum. Kremena has also delivered talks and mixed media illustration workshops for the museum's visitors and school children. 
She has worked on a range of privately commissioned and self-initiated projects, and has had a number of published works. Major commissions range from Bishop's Stortford Museum and The University of Manchester to illustration Lonely Planet Kids' children's activity books series, and designing an info map/trail for the MA Museums and Galleries in Education at UCL Institute of Education. Kremena's work features in print, online, book publishing, design, and advertising. She is represented by Allies Artists Illustration Agents. 
Journalist in Residence, Justin Webb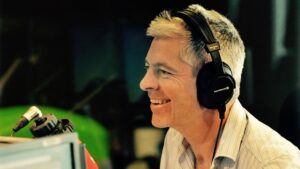 Justin Webb is the Journalist in Residence for Benjamin Franklin House. Justin was a roving foreign correspondent for the BBC for many years reporting from wars in the Gulf and Bosnia, the breakup of the Soviet Union and the end of Apartheid in South Africa. He was Europe Correspondent when the Euro was introduced before moving the US where he became the first BBC North America Editor. He was based in Washington DC from 2002 to 2009 before returning to present the Today Programme on Radio Four. He is a regular writer on US affairs for The Times and the Unherd website. He was educated at the LSE, graduating with a BSc (Econ) in 1983.
In 2021, Justin joined our Founding Director, Dr Márcia Balisciano, for our annual Robert H Smith Lecture in American Democracy in partnership with LSE. You can listen to the podcast of the event here.
Graduate Researcher in Residence, Alice Hopkinson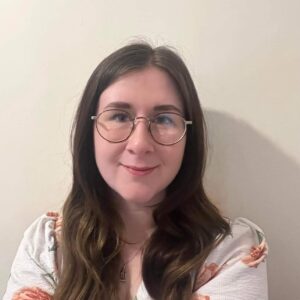 Alice is currently studying for her Masters in Cultural History at the University of Chichester after completing her Undergraduate Degree there with 1st Class Honours in 2021.

She has had a passion for American History since doing her A Levels- something that has only grown since moving on to University. As part of her Masters, she has chosen to focus her research on Benjamin Franklin- in particular his involvement with the Library Company of Philadelphia and the American Philosophical Society. She is currently working on her Dissertation, which focuses on how Franklin's dual personas of Scientist and Statesman interacted, whilst taking into consideration the relationships Franklin had with his friends and colleagues,
and how these people were able to facilitate his successes.

She currently lives in Southsea with her family and cats, one of whom is aptly named Franklin.