The House Today
Benjamin Franklin House at 36 Craven Street is a heritage gem. The world's only remaining home of Benjamin Franklin was opened to the public for the first time on 17 January 2006, on his 300th birthday, as a dynamic museum and educational facility.  We have since welcomed over 140,000 visitors.
The Historical Experience – presenting the excitement and uncertainty of Franklin's nearly 16 years in London using his historic rooms as staging for a drama in his own words, which seamlessly integrates live performance, sound and projection.
The Student Science Centre – encouraging Franklin's boundless spirit of enquiry and innovation through hands-on experimentation with scientific discoveries from Franklin's London years, juxtaposing past and present knowledge.
The Robert H. Smith Scholarship Centre – featuring research facilities, including a set of the published Papers of Benjamin Franklin, as a focal point in Europe for study of Franklin and the myriad subjects with which he was associated. In addition, a vibrant annual programme of public events.
Governance – Benjamin Franklin House is managed by Director Dr Márcia Balisciano and a Board of Governors, that is chaired by John Studzinski. The Board provides the strategic direction of Benjamin Franklin House and meets on average four times a year.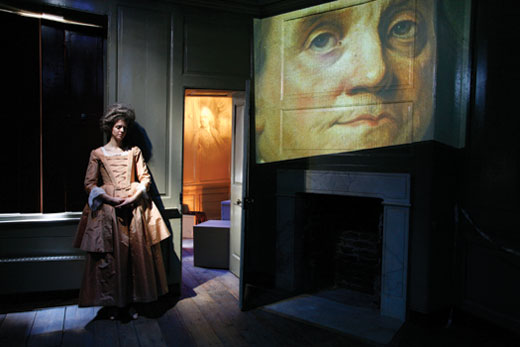 The House, built circa 1730, is architecturally significant. It holds England's highest Grade I heritage listing and retains a majority of original features including the central staircase (which Franklin said he used for regular exercise!), flooring and panelling.
The House, as the world's only remaining home of Benjamin Franklin, is historically significant:
Franklin lived and worked there for nearly sixteen years on the eve of the American Revolution (1757-1762; 1764-1775)
First de facto US Embassy – holds a special place in Anglo-American history
Fascinating history of medicine dimension – Franklin's landlady's son-in-law, William Hewson, ran an anatomy school from Craven Street
The House has gained official recognition:
Recognised by Tercentenary Committee (celebrating 300th anniversary of Franklin's birth in 2006)
Institute of Electrical Electronics Engineers (IEEE) Milestone location
Holds two English Heritage 'blue' plaques (neither of which are blue!)