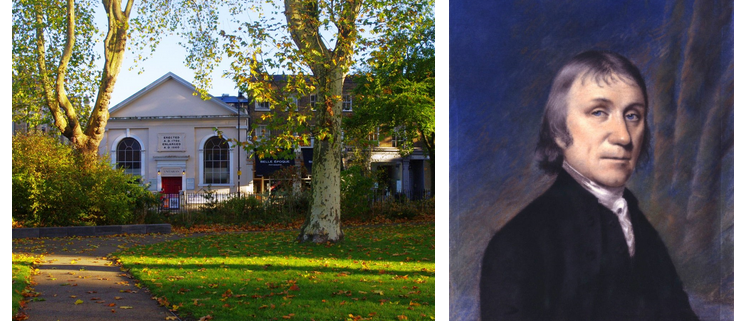 Please register here, to receive the joining link and password.

This 30 minute class will begin at 3pm BST/10am EDT on Tuesday 23 June.
We are very exciting to welcome a guest presenter from Newington Green Meeting House for this week's instalment of our weekly virtual science classes. You can recreate the featured demonstration at home using household materials.
Newington Green Meeting House is a place where for over 300 years people have been thinking differently. In this session Amy Todd, Community and Learning Manager, will be showing us how to perform one of Joseph Priestley's experiments. Joseph Priestley used to come to the Meeting House and was friends with one of our famous ministers, he was the person who discovered Oxygen, and he did lots of experiments with gases. He even invented the world's first carbonated drink, so without Priestley there would be no Fanta today! In this experiment you will learn how to instantly freeze your favourite fizzy drink and amaze your friends!
Activity Materials: fizzy drink of your choice, space in a freezer, a bowl, some ice (1-2 cubes will be fine)
You will need to put your soft drink in the freezer for 3.5 hours before we start so you can join in!
Links to the Science Curriculum:
KS2: States of Matter (Y4, Y5)
KS3: Matter – Physical Changes
Most Suitable for KS2 and KS3 (Grades 2-8) but all ages welcome!
If you have any questions, please contact education@benjaminfranklinhouse.org
Watch the full class and demonstration:
Watch the demonstration:
https://benjaminfranklinhouse.org/wp-content/uploads/2020/06/Week-10.png
371
747
Henry Wilkinson
https://benjaminfranklinhouse.org/wp-content/uploads/2018/05/bfh_web_logo_white_retina.png
Henry Wilkinson
2020-06-16 18:32:53
2020-06-23 16:27:55
Live Science Class for Kids: Guest Presenter from Newington Green Meeting House