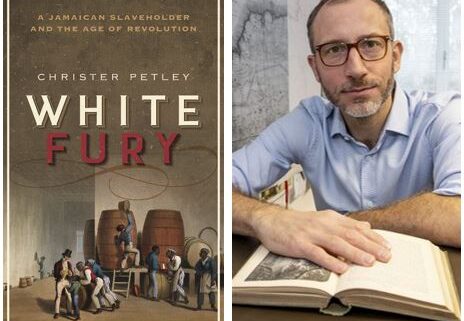 Join us for the April instalment of Ben's Book Club, a monthly virtual gathering looking at themes relating to Benjamin Franklin, the 18th century, and American history.
This month we spoke to Christer Petley about his book 'White Fury', which tells the story of sugar planter Simon Taylor, one of the wealthiest and most influential slaveholders of the eighteenth-century British empire.
Petley uses Taylor's rich and expressive letters to allow us an intimate glimpse into the aspirations and frustrations of this wealthy and powerful British slaveholder. The letters provide a fascinating insight into the merciless machinery and unpredictable hazards of the Jamaican plantation world; into the ambitions of planters who used the great wealth they extracted from Jamaica to join the ranks of the British elite; and into the impact of wars, revolutions, and fierce political struggles that led, eventually, to the reform of the exploitative slave system that Taylor had helped build . . . and which he defended right up until the last weak scratches of his pen.
'White Fury' details the importance of sugar and slavery to the eighteenth-century empire, the rise of the Caribbean planter class, and the struggle over the future of slavery that took place during the Age of Revolution.
Christer Petley is a Professor in History at the University of Southampton. He is a member and former Chair of the UK Society for Caribbean Studies and a member of the Association of Caribbean Historians.
You can purchase a hardcopy of 'White Fury' here. You can purchase the Kindle edition here.
This event is free of charge but please consider making an online donation here to support the work of Benjamin Franklin House.
https://benjaminfranklinhouse.org/wp-content/uploads/2021/02/ChristerPetley.jpg
361
464
Ops
https://benjaminfranklinhouse.org/wp-content/uploads/2018/05/bfh_web_logo_white_retina.png
Ops
2021-02-09 16:56:12
2021-04-22 10:24:45
Ben's Book Club: 'White Fury' by Christer Petley