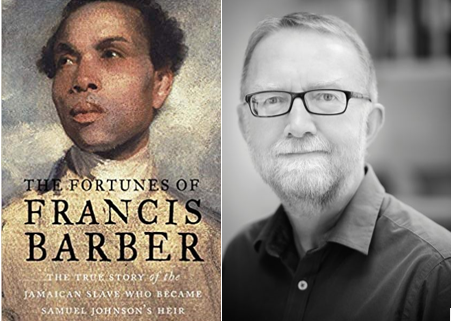 Join us for the January instalment of Ben's Book Club, a monthly virtual gathering looking at themes relating to Benjamin Franklin, the 18th century, and American history.
This month we will be talking to Michael Bundock about his compelling narrative, 'The Fortunes of Francis Barber: The story of the Jamaican slave who became Samuel Johnson's heir', which chronicles a young boy's journey from the horrors of Jamaican slavery to the heart of London's literary world, and reveals the unlikely friendship that changed his life.
Francis Barber, born in Jamaica, was brought to London by his owner in 1750 and became a servant in the household of the renowned Dr. Samuel Johnson. Although Barber left London for a time and served in the British navy during the Seven Years' War, he later returned to Johnson's employ. A fascinating reversal took place in the relationship between the two men as Johnson's health declined and the older man came to rely more and more upon his now educated and devoted companion. When Johnson died he left the bulk of his estate to Barber, a generous (and at the time scandalous) legacy, and a testament to the depth of their friendship. There were thousands of black Britons in the eighteenth century, but few accounts of their lives exist. In uncovering Francis Barber's story, this book not only provides insights into his life and Samuel Johnson's but also opens a window onto London when slaves had yet to win their freedom.
Michael Bundock is a barrister, a trustee of Dr Johnson's House and Chair of the Johnson Society of London. He is an Honorary Research Associate in the Department of English Language and Literature at UCL.
You can purchase a copy of 'The Fortunes of Francis Barber' from the online shop at Dr Johnson's House here. Click here to find out more about this Grade I listed historic town house which was Samuel Johnson's home. You can support the charity which preserves the house and runs its vibrant education and events programme here.
You can also purchase the Kindle edition of 'The Fortunes of Francis Barber' here.
https://benjaminfranklinhouse.org/wp-content/uploads/2020/12/Michael-Bundock.png
325
452
Eleanor Hamblen
https://benjaminfranklinhouse.org/wp-content/uploads/2018/05/bfh_web_logo_white_retina.png
Eleanor Hamblen
2020-12-22 16:21:54
2021-01-21 11:55:37
Ben's Book Club: 'The Fortunes of Francis Barber' by Michael Bundock