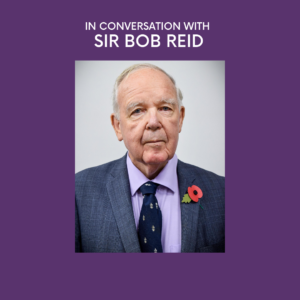 Frank(lin) Views podcast features thought leaders across disciplines on themes associated with Benjamin Franklin – the great diplomat, writer, inventor, scientist and more – including leadership, the purpose of history, modern day publishing, and diplomacy.
In this episode of Frank(lin) Views, Benjamin Franklin House Director, Dr Marcia Balisciano, sits down with BFH Board Member Sir Bob Reid to discuss the purpose of history.
Sir Bob Reid graduated from St Andrews University after studying political economy and modern history. In 1956 he joined Shell International Petroleum Company Limited, and he served as chairman and chief executive of Shell UK from 1985 to 1990. During his tenure at Shell, Sir Bob spent much of his career overseas, including posts in Brunei, Nigeria, Thailand and Australia while responsible for all oil exploration, production, refineries and coastal shipping.
In 1997 he joined Bank of Scotland as Deputy Chairman, where he remained until 2004. He became chairman of the British Railways Board in 1990 during the build-up to privatisation and held this post until 1995. From 1997 to 2004 he was the deputy governor of the Bank of Scotland. He received his knighthood in Queen Elizabeth's 1990 Birthday Honours.
https://benjaminfranklinhouse.org/wp-content/uploads/2018/05/bfh_web_logo_white_retina.png
0
0
Caitlin Hoffman
https://benjaminfranklinhouse.org/wp-content/uploads/2018/05/bfh_web_logo_white_retina.png
Caitlin Hoffman
2022-03-10 15:19:42
2022-03-10 15:37:28
Frank(lin) Views: Sir Bob Reid