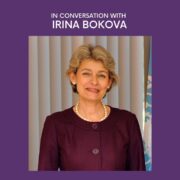 Frank(lin) Views podcast features thought leaders across disciplines on themes associated with Benjamin Franklin – the great diplomat, writer, inventor, scientist and more – including leadership, the purpose of history, modern day publishing, and diplomacy.
In Episode 3 of the Frank(lin) Views Podcast, we speak to Irina Bokova, former Director-General of UNESCO and current cultural diplomacy leader.
Irina Bokova began her career at the United Nations Department at the Ministry of Foreign Affairs of Bulgaria. She was elected twice Member of Parliament and served as First Deputy Minister of Foreign Affairs and Government's first Secretary for European affairs.
Before being elected as Director General of UNESCO, from 2005 to 2009 Irina Bokova was Ambassador of Bulgaria to France, Monaco and UNESCO and Personal Representative of the President of the Republic of Bulgaria to the Organisation Internationale de la Francophonie.
As Director-General of UNESCO, Irina Bokova was actively engaged in the UN efforts to adopt Agenda 2030 for Sustainable Development, including quality education for all, gender equality, the protection of the world's cultural heritage. She actively promotes dialogue among cultures and mutual respect against violent extremism and terrorism.
She was particularly active in defence of cultural heritage in conflict in Mali, Syria and Iraq and in denouncing extremists' destruction of heritage as a tool of war. As a result, the UN Security Council adopted several landmark resolutions on the link between maintaining peace, security and the protection of cultural heritage.
Irina Bokova was on the Forbes List of the world's most influential women for 2016. She has received state distinctions from more than 40 countries, and is Doctor honoris causa and /or Honorary degrees of leading universities across the world, among which King's College, Durham University and University of Edinburgh, UK, University of Massachusetts, Boston, Ca' Foscari University of Venice, Italy, University of Geneva, Switzerland, Tongji University, Shanghai, China, and others.
Currently, she is a Member of the Strategic Committee of the Paris School of International Affairs /PSIA/ at SciencePo, France and lecturer on cultural diplomacy, visiting professor at the University of Geneva, Switzerland, Honorary Dean of the Humanitas College and honorary professor of Peace Studies, of Kyung-Hee University, Seoul, Member of the Concordia Leadership Council, New York, Member of the Board of "Ban Ki Moon Centre for Global Citizens, among others.
Funding for Frank(lin) Views has generously been provided by the United States Government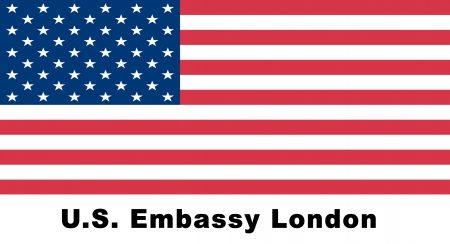 https://benjaminfranklinhouse.org/wp-content/uploads/2018/05/bfh_web_logo_white_retina.png
0
0
Ops
https://benjaminfranklinhouse.org/wp-content/uploads/2018/05/bfh_web_logo_white_retina.png
Ops
2021-07-06 17:19:31
2021-08-27 18:21:19
Frank(lin) Views Podcast: Irina Bokova