Sister Schools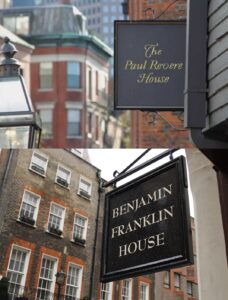 In collaboration with Paul Revere House in Boston, Massachusetts (USA) the Sister Schools project is a Benjamin Franklin House programme linking schools in the UK with their counterparts in the United States.
The programme will give pupils the opportunity to participate in a fun, collaborative and curriculum-based project based on the amazing lives of Benjamin Franklin and Paul Revere. Themes include our shared heritage, citizenship, and science and innovation.
The programme will last 6-8 weeks, include a free trip to Benjamin Franklin House, a virtual tour of Paul Revere House, school visits from the Education Manager and a Teacher's Pack including pre-planned session outlines and activities.
We will be launching our new pairings in September 2022 and are on the look out for KS2-3 classes of 30 to participate in the programme. If you are interested in learning more about Sister Schools and would like to view the Teacher's Pack, please contact our Education Manager.